Unstoppable Dreams
Each life, looking back, might have taken a different course, but for the intervention of certain special people. Growing up with cystic fibrosis – with several breathing treatments a day and regular hospital stays – is not the life a little girl dreams of living. Brianna Collichio was two when she met her first respiratory therapist. Enter Kim: a respiratory therapist with a very special mission.
"She was so positive and motivating and fun – and she has adorable dogs," Brianna says. "Over time, my respiratory therapist became more than a respiratory therapist, she became a friend, and she is definitely a fan of my singing."
Singing? For most patients with cystic fibrosis, breathing can be a challenge – singing an absolute impossibility. But Brianna loves to sing and always has. She is also really good at it.
Unstoppable: Brianna Collichio's Television Commercial, 2022
Some dreams, it seems, are just bulletproof and nothing could stop the song in Brianna's heart. She started out singing in her hometown, in the gazebo, in church, but before you know it, she was performing for the NFL, singing the national anthem for the Jets, and auditioning for American Idol.
You can imagine how proud Kim is of Brianna's perseverance and success. Kim's life journey has taken her on a different path now, and she was not available to participate in the filming of Brianna's story, but her influence in Brianna's life is something that lives on to this day. One patient, one life she touched, and changed forever. One dream that had a chance to come true.
Jill, who stepped in to help us tell Brianna's story from the perspective of a respiratory therapist, confirmed just how incredible it is to see someone with cystic fibrosis sing on a national stage – to be able to sing at all. She agrees that Brianna's respiratory therapist did a great job and was instrumental in bulletproofing little Brianna's dreams.
As Jill thinks about her own patients, she says: "They're living their dream maybe because of a small piece that I did to help them succeed. It's heartwarming."
Respiratory therapists can have a tremendous influence on the lives of their patients. Few careers are as critically important or meaningful as this.
"If you're thinking about being a respiratory therapist, I would 100 percent encourage that," Brianna says. "It makes such a difference in the lives of people like me. Without my respiratory therapist I probably would not be here."
Respiratory therapists make a powerful difference like this every day. Please share Brianna's story on your favorite social channels to join us in celebrating and elevating the profession of respiratory care.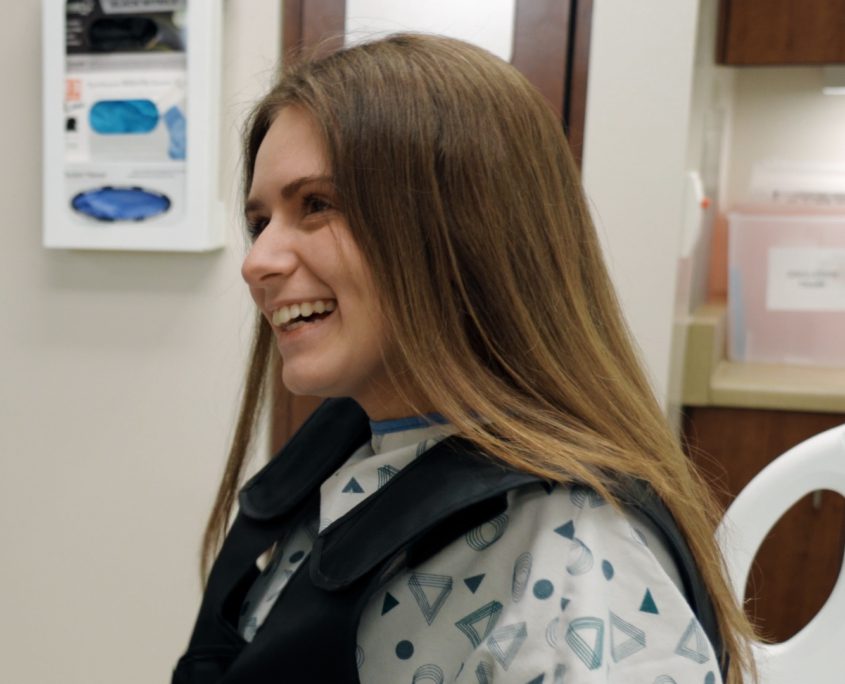 Brianna Collichio recreating a visit with her respiratory therapist for the television spot.
Finding the Song in Your Heart
When you find your calling, some people say, it pulls at your heart and won't let you go. If you think a career in respiratory therapy might be right for you, follow that dream, and it will lead you to helping others succeed in achieving their dreams. If you are thinking about becoming a respiratory therapist, you've come to right place, and there is someone out there who might really need you.
Looking to become a respiratory therapist? Start here.
Ready to help train the next generation of RTs? Become an educator.